Speed Reading: 5 Best Apps for iPhone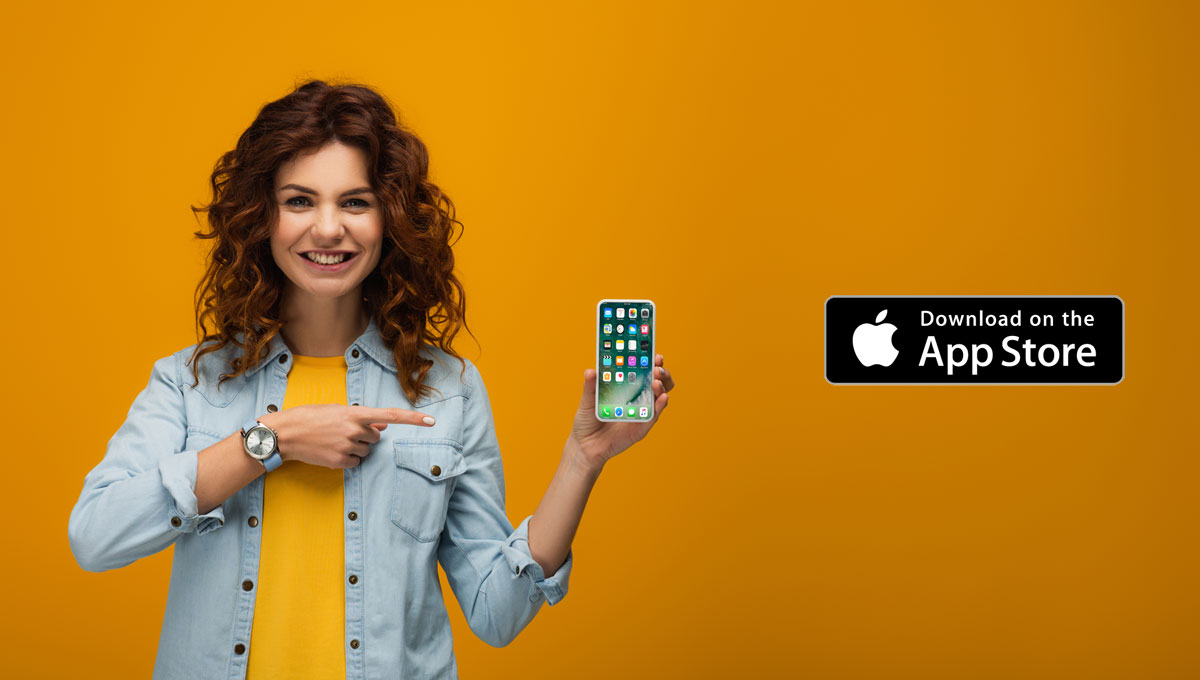 Did you know that reading speed is a skill that can be improved? Upon reaching a certain level in 7th grade development of this skill usually stops. The average reading speed of an adult is 200-240 words per minute and usually stays within this range. Unless, of course, you put an effort. That's why you most likely read like a seventh-grader. However, here's 2 good news for you: 1) most of your acquaintances read the same way; 2) this skill can be improved, and we will tell you how to do it using your iPhone or iPad.
No matter what level you start with, simple exercises can help you achieve good results both in speed and in reading comprehension.
We read books, signs, receipts, menus, reports, instructions, and nutrition facts every day. The process is so familiar that we do not even think of it in terms of its multifacetedness and complexity. To boost your reading speed, you need to understand which muscle groups you need to engage.
It appears that when we read our eyes do not move smoothly, they make rapid movements or saccades and short fixations. Each fixation or pause in reading lasts 0.2 seconds which is only enough to see 1 word without additional training. Thanks to speed reading training you will be able to see and memorize 2-3 words per such fixation. This will help reduce the time you spend on one line of text. Other two foes of speed reading are returning to the text you've just read and reading out loud. Moreover, when you read at your usual speed, your brain grows tired of the mundane task and gets easily distracted.
Your first task is to learn to read fast. Second task is more difficult - learning to retain the information you read. We have handpicked these 5 apps for your iPhone and iPad to help you train these skills and turn you into a superhero.
1) Readlax: Brain Games for Speed Reading
Designed by Ukrainian developers, this app can help you train all "muscle groups" that are important for speed reading. All exercises come as brain games that help you boost working memory, expand peripheral vision to cover as many words in a line as possible. Visual window itself plays the most important role in speed reading.
"Memory Matrix": Memorize the location of items and try to recreate it in the right order. This exercise helps develop working memory and visual range
"Bigrams and Trigrams": Use your peripheral vision to recognize groups of letters (bigrams and trigrams - 2-3 consecutive letters). This is the most effective type of training. It contains a set of 49 common bigrams and trigrams, which boost the recognition of entire groups of words per fixation.
"Letter and Number Matrix": Recognize all numbers on the screen looking only at central cell of the table. These exercises develop peripheral vision.
"Memory numbers": Helps expand visual window. Try to make out all objects on the screen without looking away from an object in the center.
The app also has a built-in book and news reader that highlights phrases. And you can test your reading speed in different languages.
All exercises are presented as brain games, so the probability of getting carried away and play all games at once is 99.9% ;)
Pros:
Exercises designed as short games (scores, achievements, badges);
Training in different languages;
Speed test and progress monitoring;
Simple and user-friendly interface.
Cons:
$5.99/month subscription fee after the trial is over;
No player rating and leaderboard.
2) Speed Reading: read faster!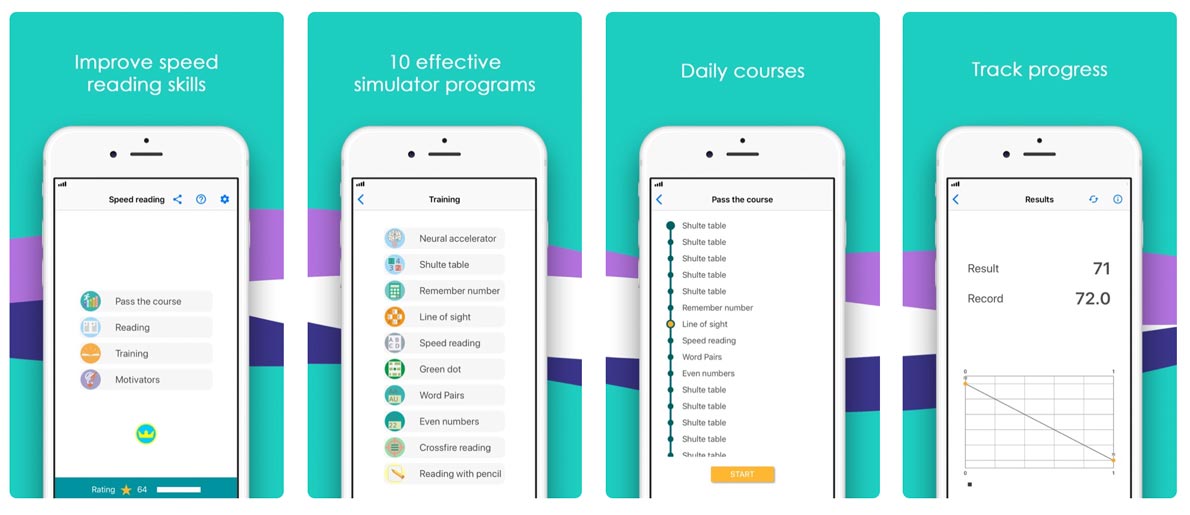 This app is designed not only for adults. It has exercises and levels for kids too. In addition to basic memory and attention improvement exercises, you can take an entire training course. Every day you receive a series of exercises and monitor your progress.
You can read books in fb2, epub, txt formats inside the app. It also features a section with additional exercises that you can customize.
And if at some point you feel like giving up, there's a motivational quotes section to fire you up and help you focus on what's important :)
Exercises are similar to the previous app, and some of them help focus on the text by highlighting it as you read it. You can adjust the speed at which the line will be highlighted. This helps focus on the text and limits regression and subvocalization.
Pros:
Exercise levels for adults and kids;
Simple and friendly interface.
Мінуси:
Extended training version requires subscription fee;
3) Spreeder: Speed Reading E-Reader and Trainer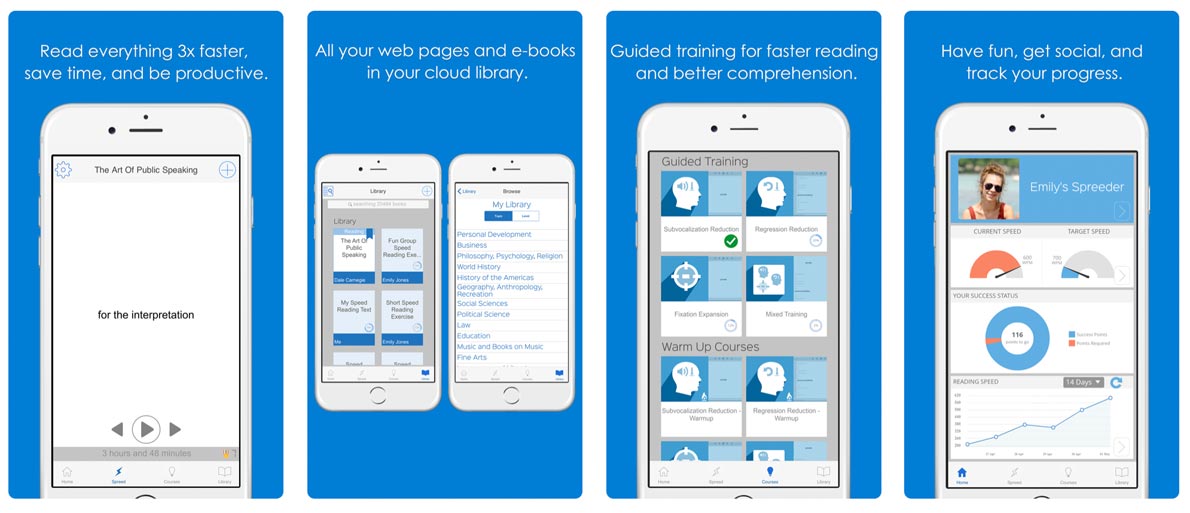 Developers of this app have focused on creating a reader that will help increase reading speed. You do not see the entire text, but only the words that change at a certain pace. This helps you avoid regressions and reduce subvocalization. Cloud storage is built into the reader, and the app resumes from where you left off. Additionally, you can sync the app across all your devices.
User statistics allow you to track progress and get results comparison reports.
Extended version of the app includes a series of exercises aimed at developing speed reading skills, lessons and a library of 20,000 e-books. You can also upload texts from the Internet.
App's reader lets you select one of 4 reading modes: serial, stream, selection and scrolling. The app can show one word or text fragments of up to 30 words on 5 lines for reading. And you select a comfortable pace.
All lessons are divided by goal - reduction of subvocalization, reduction of returns to a line, training of visual window and mixed trainings.
Pros:
Extended training blocks;
Advanced user customization;
Extended results statistics.
Cons:
Extended version requires subscription fee;
Outdated interface design;
4) QuickReader - Speed Reading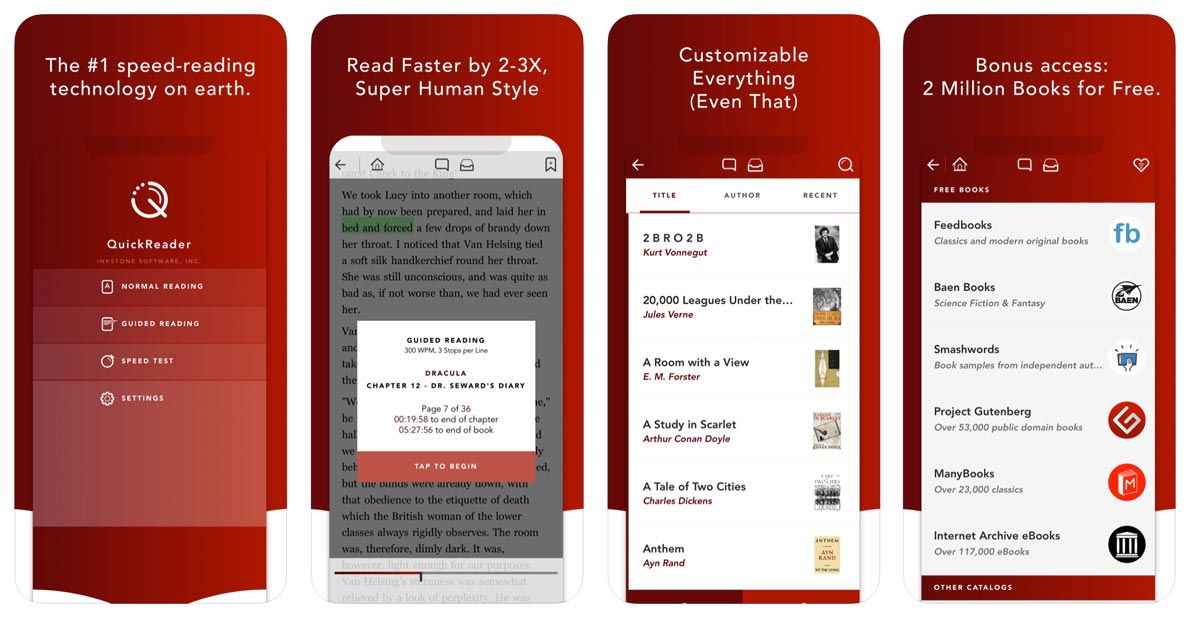 Developers claim that this app will make your life more difficult! But only in terms of reading. The main feature of this app is also a built-in reader allowing users to customize speed reading process. On top of that, users can customize absolutely everything, from app font color to the fine-tuning of speed training.
You can use the app as a reader. And you can turn on turbo mode to boost your speed reading skills: the text will be automatically highlighted at predefined speed. It is also possible to check out your reading speed and get recommendations for effective training right away.
The app features a built-in library of 2,000,000 free books.
Extended version of exercises comes with a $5 fee.
Pros:
Built-in library of 2M books;
Unobtrusive design (unless you decide to make it otherwise);
In addition to paid promotion, there is a light version with limited functionality.
Cons:
Free version contains minimum of speed reading exercises;
Books in the library are subject to paid upgrade to full version;
All books are in English only.
5) Iris: Speed Reading Tips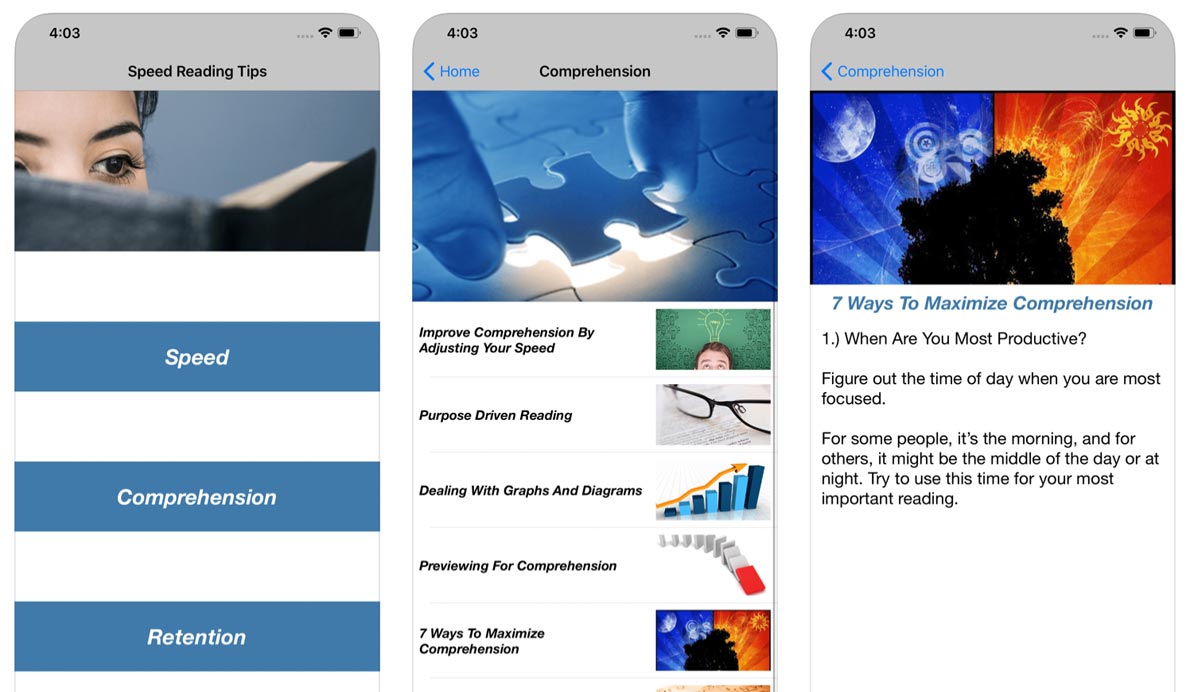 Unlike previous applications, Iris comes with a theoretical guide to speed reading. No highlighted texts or interactive games - you study the material and apply it in your daily reading.
Information is divided into three sections: speed, comprehension and retention. Each section gives a comprehensive overview, rules and a series of exercises that can help you develop speed reading skills. It is a teach-yourself kind of a deal packed inside an app.
Pros:
Cons:
Simplified design and layout;
Interface is not user-friendly.
All these applications are designed to help you develop a good self-development habit. Theory or practice, games or mere learning – it's up to you to decide. Any habit is formed within 14 days, you just need to start and incorporate it in your daily routine. And in a short period of time you will be able to see first results of your work. Use the above tips to become your own superhero!
Productivity Platform
One place for all your productivity solutions:
-brain training;
-speed reading;
-touch typing;
-smart noting.
Start Free Trial