30 Best Memory Improvement Books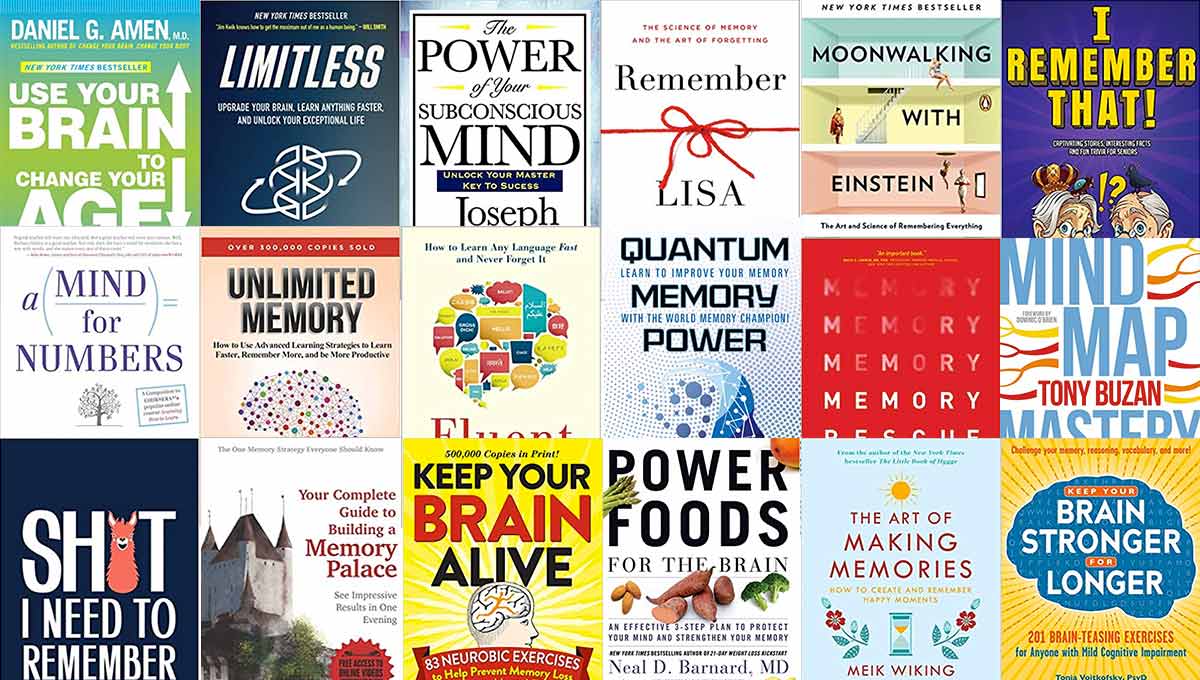 Memory Training App. Try Now >>
Articles about reading:
1) Why Read? Benefits of Reading;
2) 7 Best Speed Reading Books;
3) 5 Brain Games For Speed Reading.
Use Your Brain to Change Your Age: Secrets to Look, Feel, and Think Younger Every Day by Daniel G. Amen

Keep Sharp: Build a Better Brain at Any Age by Sanjay Gupta M.D.

Limitless: Upgrade Your Brain, Learn Anything Faster, and Unlock Your Exceptional Life by Jim Kwik

The Power of Your Subconscious Mind by Joseph Murphy

The Easy and Relaxing Memory Activity Book for Adults: Includes Relaxing Memory Activities, Easy Puzzles, Brain Games and More by J. D. Kinnest

Remember: The Science of Memory and the Art of Forgetting by Lisa Genova

Moonwalking with Einstein: The Art and Science of Remembering Everything by Joshua Foer

The Fun and Easy Memory Activity Book for Adults: Includes Relaxing Memory Activities, Easy Puzzles, Brain Games and More by J. D. Kinnest

A Mind for Numbers: How to Excel at Math and Science by Barbara Oakley PhD

Brain Games #1: Lower Your Brain Age in Minutes a Day (Volume 1) by Publications International Ltd.

I Remember That!: Captivating Stories, Interesting Facts and Fun Trivia for Seniors by Bill O'Neill

How to Own Your Own Mind by Napoleon Hill

Fluent Forever: How to Learn Any Language Fast and Never Forget It by Gabriel Wyner

Unlimited Memory: How to Use Advanced Learning Strategies to Learn Faster, Remember More and be More Productive by Kevin Horsley

The 12 Rules of Attention: How to Avoid Screw-Ups, Free Up Headspace, Do More & Be More At Work by Joseph Cardillob

Quantum Memory Power: Learn to Improve Your Memory With the World Memory Champion! by Dominic O'Brien

Keep Your Brain Stronger for Longer: 201 Brain-Teasing Exercises for Anyone with Mild Cognitive Impairment by Tonia Vojtkofsky Psy.D and Robert G. Feldman MD

Memory Rescue: Supercharge Your Brain, Reverse Memory Loss, and Remember What Matters Most by Daniel G. Amen

MindWorks: A Practical Guide for Changing Thoughts Beliefs, and Emotional Reactions by Gary van Warmerdam

Mind Map Mastery: The Complete Guide to Learning and Using the Most Powerful Thinking Tool in the Universe by Tony Buzan

Everyday Memory: Easy Ways to Remember Names, Dates, Facts, Lectures, Directions, Instructions, Events, Experiences, and Much More (Mental Performance) by Kam Knight

The Art of Making Memories: How to Create and Remember Happy Moments by Meik Wiking

The Science of Self-Learning: How to Teach Yourself Anything, Learn More in Less Time, and Direct Your Own Education by Peter Hollins

Brain Food: The Surprising Science of Eating for Cognitive Power by Lisa Mosconi PhD

Neurofitness: A Brain Surgeon's Secrets to Boost Performance and Unleash Creativity by Rahul Jandial MD PhD

How We Learn: The Surprising Truth About When, Where, and Why It Happens by Benedict Carey

How to Teach Anything: Break Down Complex Topics and Explain with Clarity, While Keeping Engagement and Motivation by Peter Hollins

Shit I Need To Remember: Internet Password Logbook: A Password Log Book, Journal & Notebook for Disorganized People by Honey Badger Coloring

Your Complete Guide to Building A Memory Palace by Graham Best

Keep Your Brain Alive: 83 Neurobic Exercises To Help Prevent Memory Loss And Increase Mental Fitness by Lawrence Katz
Productivity Platform
One place for all your productivity solutions:
-brain training;
-speed reading;
-touch typing;
-smart noting.
Start Free Trial