How to Learn Speed Reading: 5 Apps for Android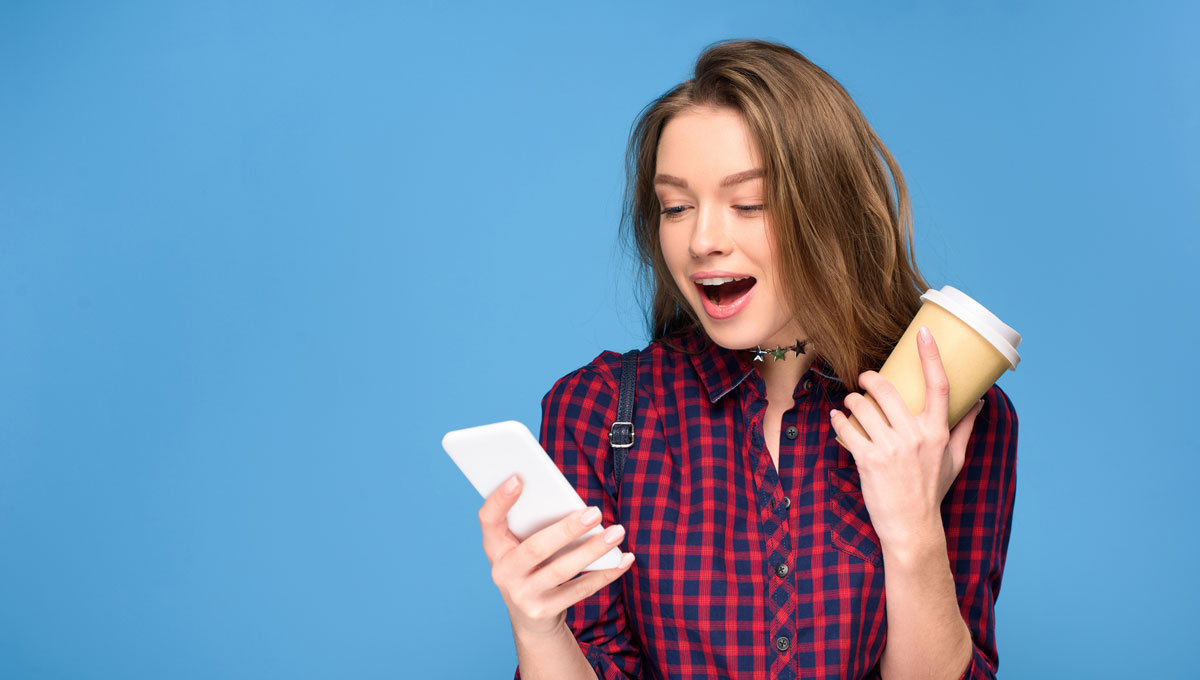 We spend around 4 hours a day using smartphones. We use messengers, share social media posts, and play games. But then we pull ourselves together, don't we? And we learn new things. We install a foreign language learning app, we read books, we learn how to play guitar, etc.
Today we offer you to learn… how to read. Read better than you already do. And no, it is not a superpower. It is a skill you can develop. And we offer you to start right away with one of the TOP 5 apps for speed reading training. Install it and boost your skill by practicing for just 5-10 minutes a day.
Let's start by defining speed reading.
In school, we are taught the essentials of reading. Most people read at the speed they've had since 6th grade. If you neglect the skill, the speed may change, though not significantly.
In a nutshell, reading is a process of decoding symbols to extract meaning therefrom. When we read our eyes don't move smoothly along the line, they make quick jumps or 'saccades', and short pauses or 'fixations'. An avid reader can recognize and memorize 2-3 words as a single phrase (i.e. treating it as a single general representation) per fixation or even more. Whereas an untrained reader reads word by word. One word—one mental representation, and this process is highly ineffective and tedious. Having mastered the skill of speed reading, you will be able to decode an entire phrase (2-3 words) per fixation and work with more complex representations.
Your first task is to learn to read 2-3 times faster by training your peripheral (lateral) vision. The second task is more difficult: learning to retain what you've read and training your working memory. We've all mastered unproductive reading in school. The average reader returns to the line, says out loud what is read, and does not increase the reading speed remaining within their comfort zone. It means that your brain grows tired from doing the mundane task and gets distracted more often. When you challenge it with a higher, optimal speed, your brain will appreciate it and take up the process. The speed should be 3-4 times of the speaking speed (150 words per minute), which makes it 400-700+ words per minute. This way you will considerably increase your brain's interest in reading. The process will become fast, easy, enjoyable, and exciting. However, in order to read (decode) words at such a speed, you need to train your eyes, working memory, and brain too.
Speed reading is a skill that streamlines your reading speed without losing comprehension. One should not confuse it with 'scanning' (skimming or diagonal reading). Scanning implies decoding only the necessary passages while omitting insignificant descriptions, minor words or phrases. Speed reading implies decoding the entire text, recognition and comprehension of all the words. There are several training methods: word grouping (chunking); avoiding repeating the content in your head (subvocalization or pronunciation); avoiding going back to the beginning of sentence or phrase (regression) because the more we go back the slower is the reading speed; improving memory and visual span.
We have handpicked 5 apps for you to boost your speed reading skill, learn to memorize more information in less time, and finally gobble up all the books you have been planning to read in one year in just a few months.
Readlax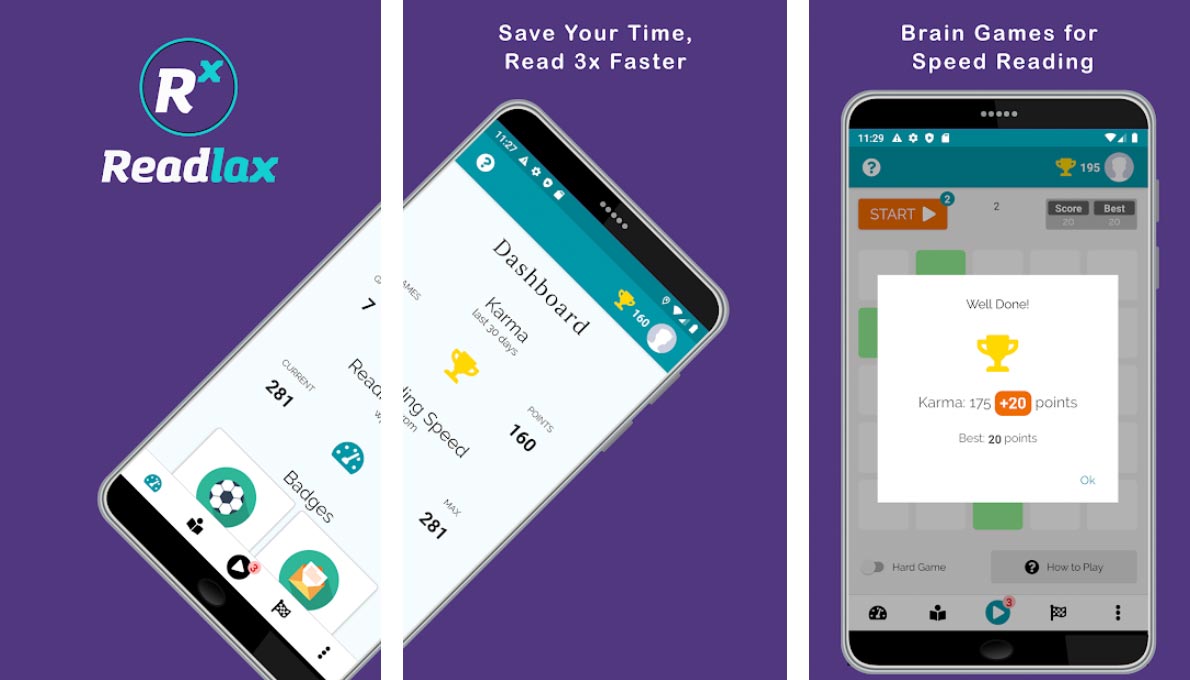 Play simple games every day to boost your reading skills and working memory. Some games are designed to expand the 'visual window' - a range that allows you to cover and decode more words. Visual window is key to speed reading.
Main games:
"Memory Grid" helps improve working memory and visual span with disappearing objects. Try to remember and recreate their location.
"Memory Numbers" helps develop peripheral vision. Try to make out all objects on the screen without looking away from an object in the center.
"Letter and Number Matrix": Find all letters (numbers) in succession, looking only at central cell of the table using your peripheral vision.
"Bigrams and Trigrams" are exercises that improve search and recognition of groups of letters (bigrams and trigrams - 2-3 consecutive words) with peripheral vision. This type of game is super-efficient. It contains a set of 49 common bigrams and trigrams, which boost recognition of entire groups of words per fixation.
The app also has a reading function (books and news) that highlights groups of words (phrases), and you can take an online test to check your reading speed in different languages.
The developers also suggest using the Chrome extension to read and practice speed reading in the browser.
All exercises are presented as games, so it is quite easy to get carried away with one of the tests. You won't even notice as you complete the next exercise unit.
Pros:
7-day trial period;
Exercises designed as short games with elements of gamification (scores, achievements, badges);
Easy/difficult levels;
Multiple languages (Available in 5 languages);
Upload your own text;
Speed test and progress monitoring;
Simple and friendly interface.
Cons:
$5.99 - $9.99 per month subscription fee after the trial is over;
No player rating (leaderboard).
Speed Reading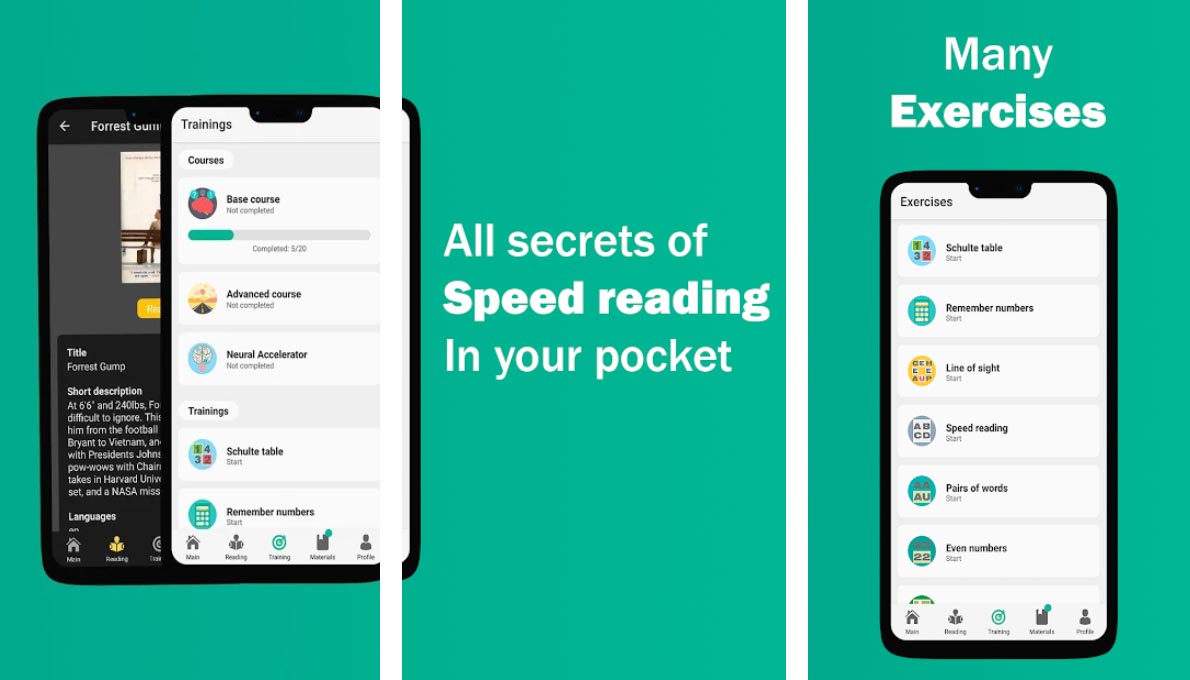 The app developers have combined training exercises with the ability to read books right in the app. You can download your book or read the ones already downloaded in the app.
All exercises are divided into units and levels. In the beginning, you will have to go through basic levels, which may seem easy. But it's just the beginning.
The app's highlight is its training course. Once you've subscribed, you will get a daily set of exercises for 3 months. A set comprises memory exercises, expansion of visual span, concentration and reading speed exercises.
In addition, the app boasts a collection of motivational tips and rules of success.
Pros:
Free access;
Use books from your library;
Use books in any language;
Myriad of exercises.
Cons:
No player rating;
Users cannot choose their level.
Reedy. Intelligent reader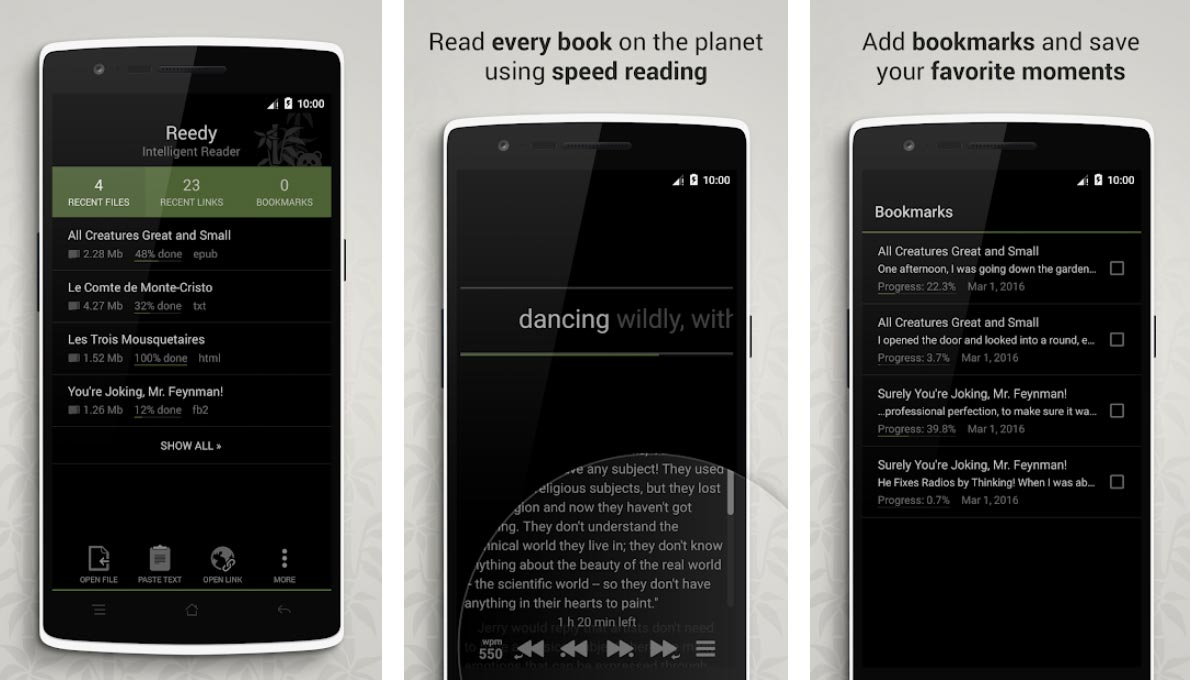 This reader boasts a plethora of features. It supports the following book formats: fb2, epub, HTML, txt. The app helps you develop speed reading by showing words in the page center. You adjust the speed and save time on browsing through the lines. You can read at speed of up to 3K words per minute because the developers believe you are greater than Napoleon himself (he could gobble up 2K words in a minute).
Moreover, the developers included advanced interface and text settings.
Reedy can exchange links with Pocket Reader and activate the reading mode. It supports the following formats: epub, fb2, html, txt and zip-archives. You can install the app free of charge, however, to enjoy all the features you will have to splurge on the premium version.
Pros:
Free access;
Upload your own books;
Advanced user settings.
Cons:
Limited app features;
No additional exercises.
Reading Trainer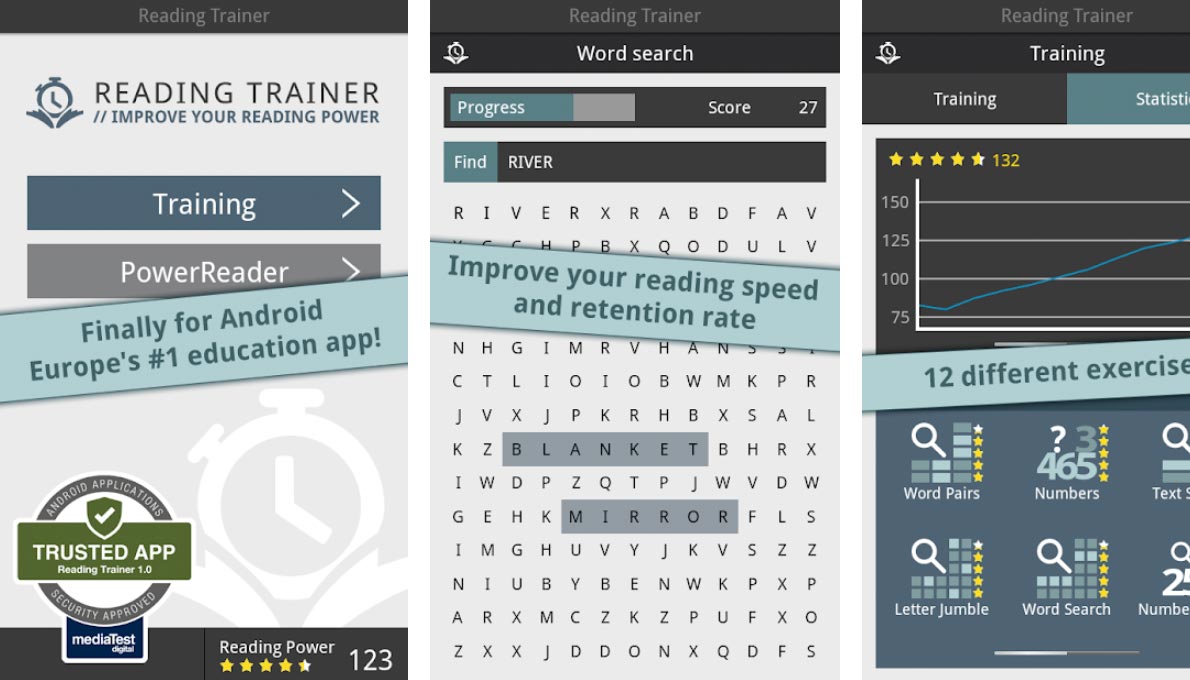 Unlike previous apps, Reading Trainer will cost you $3. For this amount, the developers offer 12 games to boost your speed reading skills. Built-in PowerReader will help improve your skills doing daily routine, such as reading morning news.
Built-in games focus on training fast recognition of numbers, letters and words; you can improve flexible eye movement, focus and vision span.
The app also features user statistics to assess progress.
Pros:
Track your progress;
Available in 10 languages.
Cons:
Paid access;
Non-intuitive and complex interface.
Balto Speed Reading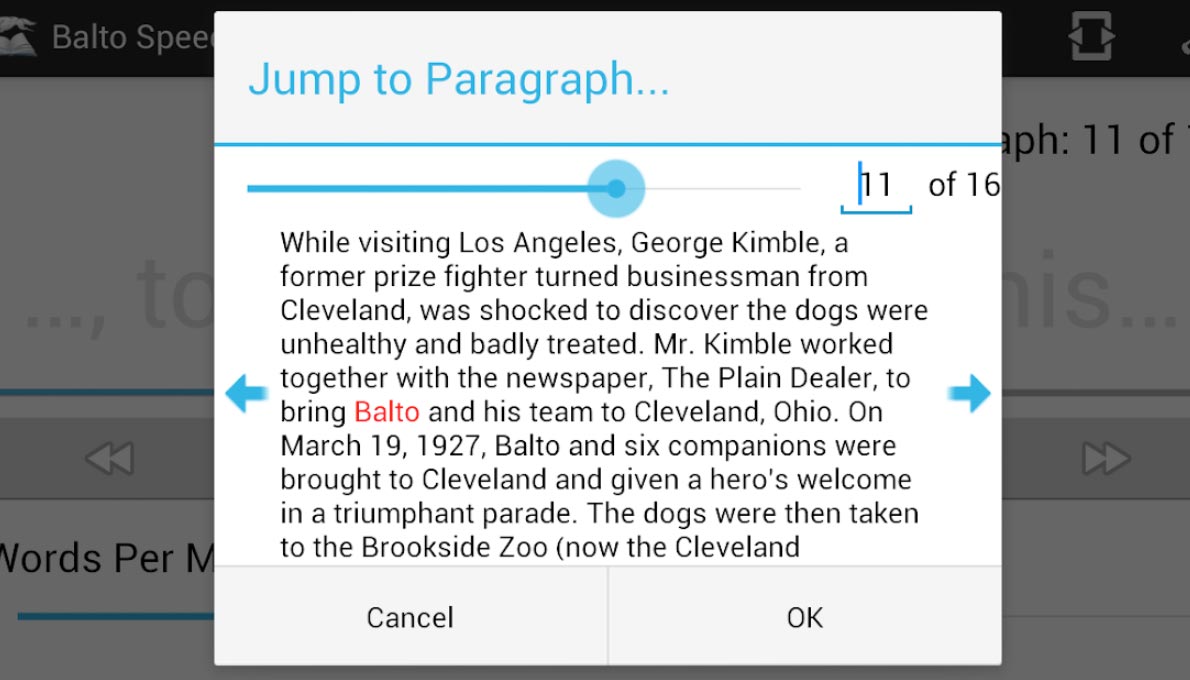 Balto Speed Reading app features a trainer and a reader that support all imaginable formats (you can try and find the rare formats that are not supported, but we are astounded by the sheer number of supported ones).
The app progressively visualizes text paragraphs, speeding up your reading at a comfortable pace. It is also equipped with smart paragraph and punctuation analysis for easy and convenient reading.
It is essentially a reader with rich functionality for speed reading training. No distractions, just you and the text.
Pros:
Convenient reader navigation;
Upload all kinds of formats and webpages;
Smart division into paragraphs for easy reading.
Cons:
Primitive interface;
All reading control options become available after purchase.
All of the above apps are designed to train your ability to focus, memorize and see more than you are used to in your daily reading practice. Regular exercise 15-20 minutes a day can yield substantial results in just a few weeks. In as little as a month of training you will see many books disappear from your must-read list. Play educational games, learn speed reading, and become your own superhero.
Productivity Platform
Get More Done In Less Time.