TOP-8 Reader Views for Chrome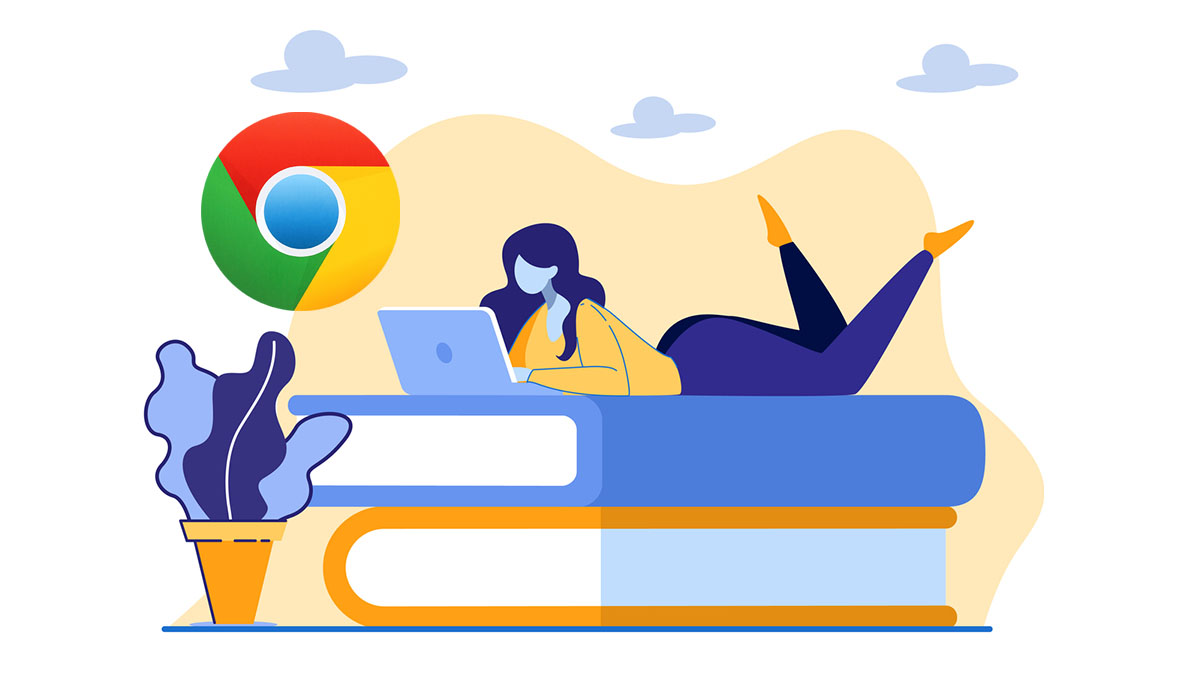 Articles about reading:
1) Why Read? Benefits of Reading;
2) The 70 Best Quotes About Reading;
3) 7 Best Speed Reading Books;
1) Reader View.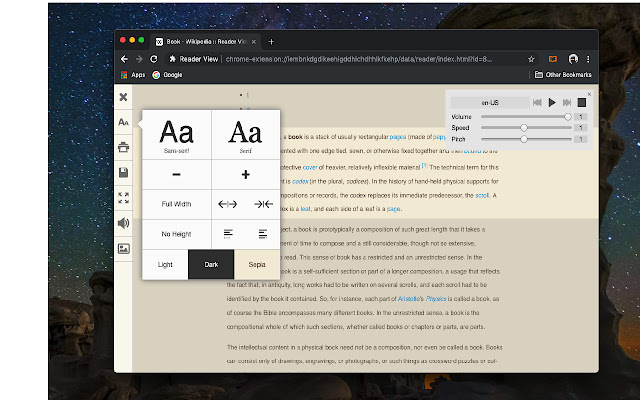 Overview from Chrome Web Store:
"Reader View extension brings Mozilla's open-source Readability implantation to Chromium. Using this extension you can strip clutters from webpages and read them on "Reader View" mode. The extension allows you to toggle between normal view and reader view by pressing the page-action button."
Reviews:
"Great app!!! Makes my browsing experience infinitely better."
"Works great most of the time and exactly what I was looking for after using this great feature in Firefox."
"Great app to remove unwanted clutter on web pages. "
"The most useful reading view for chrome so far."
2) ReadBee - text mode for websites.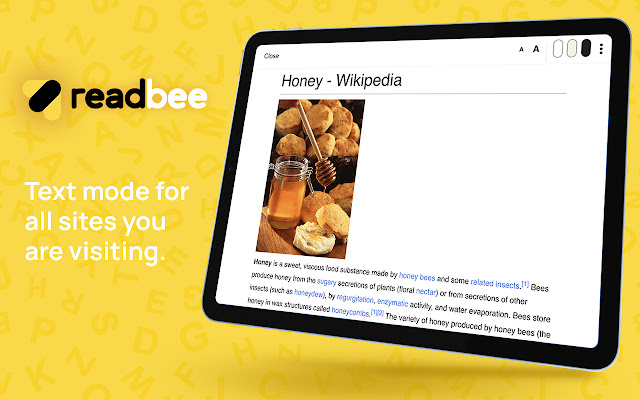 Overview from Chrome Web Store:
"One of the ways to reduce this fatigue is to reduce the contrast between text and the screen. Easy ReadBee- text reader provides an overlay to cover the screen offering several different colours for users to choose from. Further you can change the colour of the text so that it further reduces the contrast with an simple reading mode extension."
Reviews:
"This extension does a wonderful job presenting just the text that I want to read"
"Best Reader Mode extension on the store"
"This extension works fine and it is exactly what I need. Now I can rest my eyes after so many hours in front of the screen."
"Best reader extension for chrome"
3) Readlax: Reader View.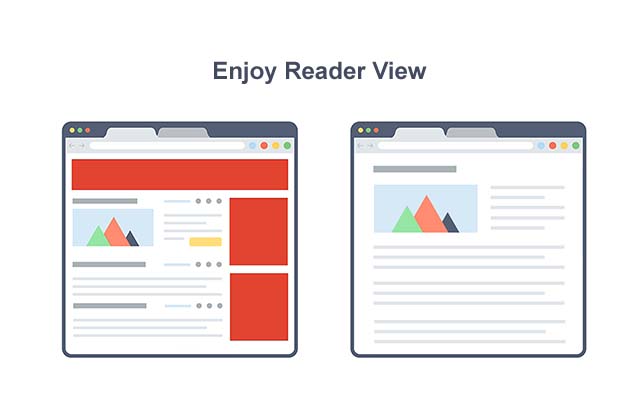 Overview from Chrome Web Store:
"Phrase Highlighting for Speed Reading - Read Faster Immediately. The "Readlax Reader" removes ads and distractions, leaving only text and images for a clean reading view. Features: 1) Remove distraction; 2) Remove advertisements; 3) Phrase highlighting; 4) Speed reading training; 5) Dark mode reading."
Reviews:
"Great extension. Love it very much."
"Thank you guys, thank you so much for launching an app that is perfect, simple and easy to use. I work as a proof reader. This amazing creation has helped a lot in terms of quick reading."
"Being a reader this application was of great use to me"
"Readlax is an excellent speed reading app. It is just right for my reading pace. I recommend this to anyone who wants to make the best out of their reading experience."
4) Reader View.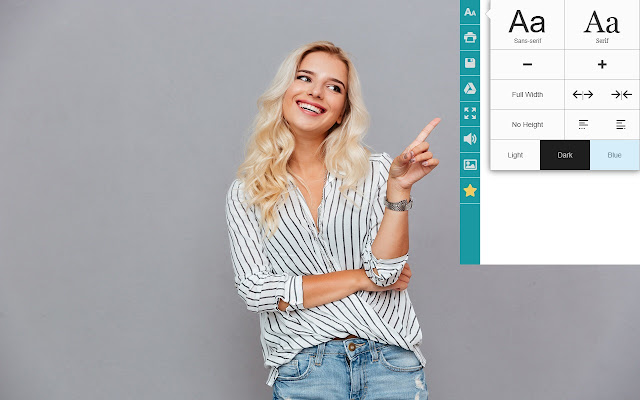 Overview from Chrome Web Store:
"Reader View extension removes clutter from web pages to enhance their readability. The extension uses Mozilla's Readability library as the engine to provide similar experience from what you get if you are on the Firefox browser. After installation, a button is added to your Chrome toolbar area or Opera's address bar."
Reviews:
"Amazing, just simply read mode is great."
"Very nice app. Does what it says and does it well!"
"I love the dark theme and helps me concentrate only on the contents that I need to read. Thank you for this awesome app!"
"I liked it"
5) Reader Mode for Google Chrome.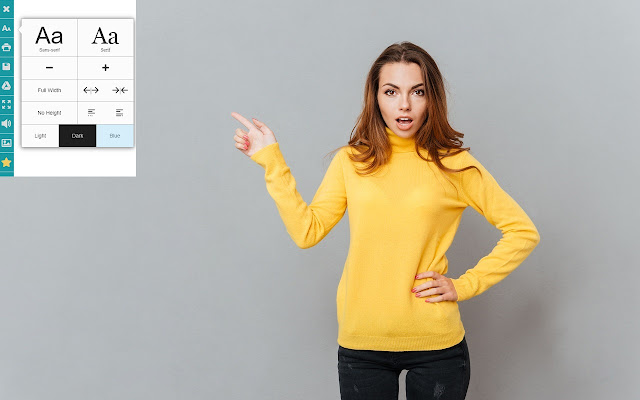 Overview from Chrome Web Store:
"Do you want to view a news article online without the advertisements etc all blocking the actual article? Simply install our software Reader Mode for Google Chrome and our software will help you remove all the clutter away from a webpage. This is a simple chrome reader mode software which allows you to focus on the text. Switch to reader view instantly once you install our software."
Reviews:
"So far so good. Cleans things up. That's all I needed. Hope they don't make any big changes"
"Very helpful for my reading routine."
"Been using it for a while now. Great extension!"
"I love that you can hide images"
6) Best Reader View.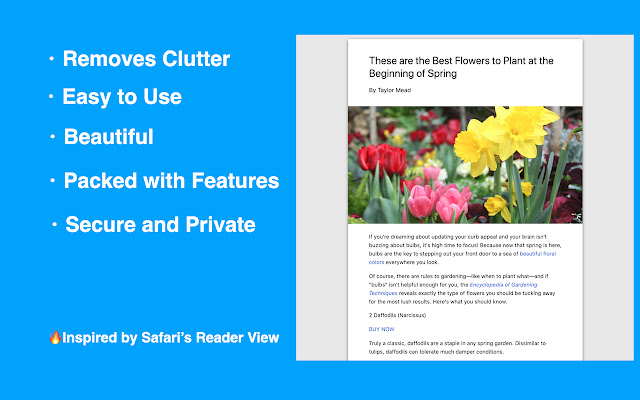 Overview from Chrome Web Store:
"Tired of cluttered web pages full of commericals? Best Reader View cleans all up and renders the only main article of the page!"
Reviews:
"I've tried many reader view extensions, this one is by far the best. "
"Simple and easy to use. It's helpful."
"It's the best reader app I have seen"
"Indispensable and easy to use, Highly recommended."
7) Clearly Reader.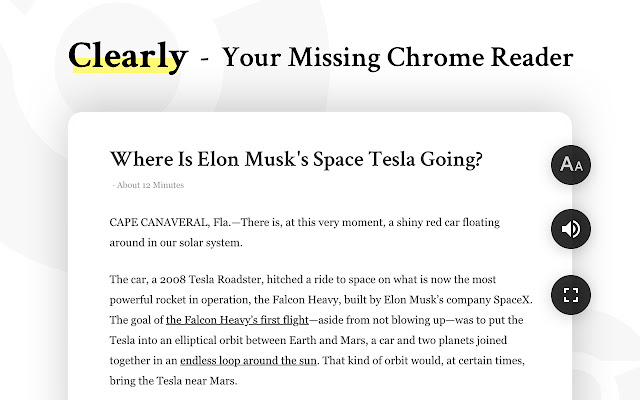 Overview from Chrome Web Store:
"Every day we spend hours reading articles on the Web. Reading is so essential that we believe it needs to be simple and straightforward. Therefore we create Clearly Reader. You can now focus on your favorite items without ads, floats, or any other irrelevant things bothering you anymore. Just one click, enjoy your reading."
Reviews:
"I love the extension"
"Awesome idea, perfectly executed!"
"I like Chrome. But I have to switch to Safari when I need its reader view until I saw this extension"
"Simplistic and minimalistic reader. Love the interface."
8) Just Read.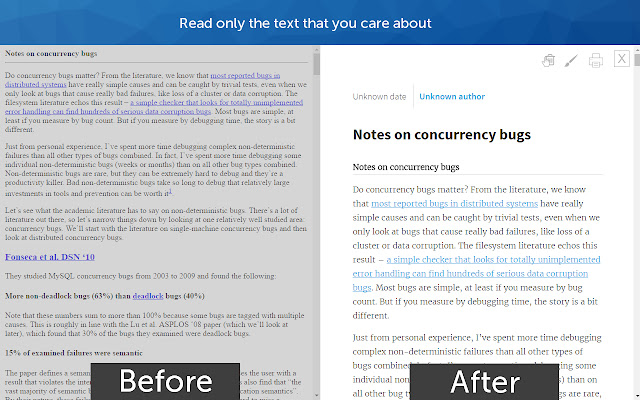 Overview from Chrome Web Store:
"And read the article in a customizable, simplified format - like a read mode but better!"
Reviews:
"Loooved it. A must have for everyone who wants to protect their eyes while reading!"
"Great minimalist reader. This does exactly what I want and gives me options to customise as I'd like."
"This extension works very well, couldn't ask for anything better."
"Very Nice! Love it"
Productivity Platform
Get More Done In Less Time.