TOP-8 Motivation Books Of All Time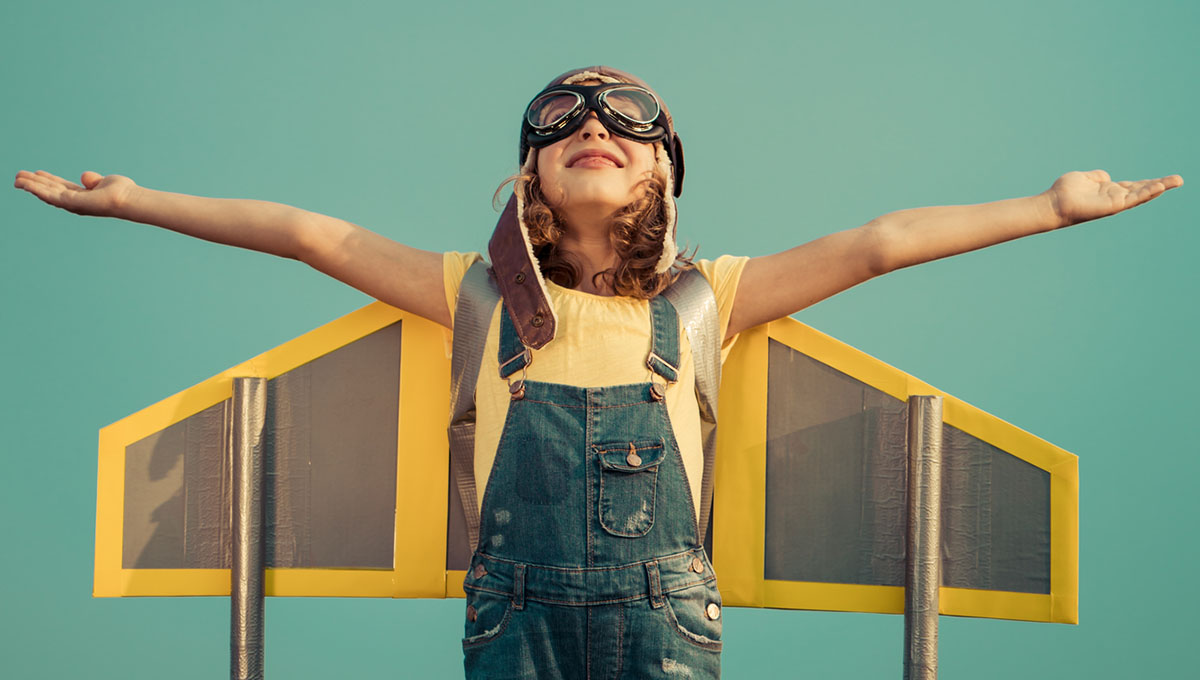 More articles:
1) 7 Best Speed Reading Books;
2) 30 Best Memory Improvement Books;
3) 9 Books People Read To Get Smarter.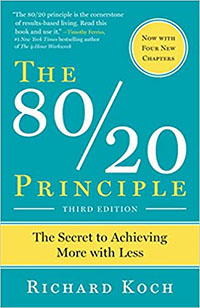 1. "The 80/20 Principle: The Secret to Achieving More with Less Paperback" (Richard Koch)
Best Sellers Rank: #7,916 in Books.
#20 in Systems & Planning
#25 in Time Management (Books)
#38 in Personal Time Management
Amazon reviews:
"I have recently been on a kick for self improvement. This book caught my eye and I decided to give it a read, I am glad I did! Even though I finished it a couple of weeks ago, this book is still on my mind. The lessons, values and teachings in this book have really changed my mindset on how I look at productivity. I highly recommend this book if you are looking to either start again, or start anew."
"The book was educational and easy to read. It is not one of those little bulleted brochure style books with large type and lots of white space that make the new executives comfortable. It is also not the 12 steps to success. As the cover suggests, it is a single but useful principle."
"An excellent book that clearly describes, not only the Pareto Rule, but how to implement it to maximize profitability with minimal effort, both in the company as well as in your personal life. While the Pareto Rule (80/20 principle) is widely know, many companies do not fully exploit its potential to grow profitability. The author, Richard Koch, describes how 80% of clients' perceived value comes from 20% of the company's activities. Also, 80% of the firm's activities yield only 20% of the profits. This brings the opportunity to optimize by reducing resources given to low profit activities and deploying them to replicate the success of the top performers."
Books quotes:
"The way to create something great is to create something simple."
"There are people who want to achieve--and then there are sane people."
"It may be that you will be happiest in the rat race; perhaps, like me, you are basically a rat."
"We can change the way that we think about external events, even where we cannot change them. And we can do something more. We can intelligently change our exposure to events that make us either happy or unhappy."
"from 20 per cent of clients. In the consulting industry that means two things: large clients and long-term clients. Large clients give large assignments, which means you can use a higher proportion"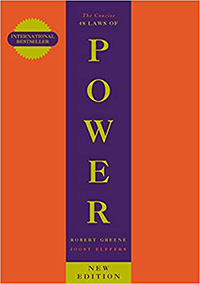 2. "Concise 48 Laws of Power" (Robert Greene)
Best Sellers Rank: #13,803 in Books.
#4 in Political Leadership
#26 in Political Philosophy (Books)
#307 in Leadership & Motivation
Amazon reviews:
"It looks immaculate and I'm very impressed with the price. Will order again!"
"I'll probably read it again. Really good basic advice"
"Great book! I already had one but liked it so much I ordered for a friend. I read a chapter each morning with my morning coffee. Very fascinating and enjoyable."
"Our fast-paced complex world demands constant adaptation and a wide repertoire of skills are necessary. On one hand, Greene's book is a integration of many key issues for self-improvement: eg, values, willpower, self-knowledge, creativity and soft skills. The Mr. Greene draws from evolutionary theory, philosophy, the classics and romantic literature to present highly motivational accounts of seduction. This book is for those who already have a strong moral character or it could be mistaken as a guide for evil. Book deals primarily in the gray areas of morality and most of the Laws covered can be used for evil or for good. A recommended reading for business majors.I don't agree with all of anyone person's theories, but I learned a bit of history with this one. I would say that this was written to be a manual of power and how it is to used within higharchy; when you have to be ruthless and cunning."
Books quotes:
"Excuses satisfy no one and apologies make everyone uncomfortable"
"When you reveal the inner workings of your creation, you become just one mere mortal among others. What is understandable is not awe inspiring"
"Remake yourself into a character of power. Working on yourself like clay should be one your greatest and most pleasurable life tasks. It makes you in essence an artist - an artist creating yourself."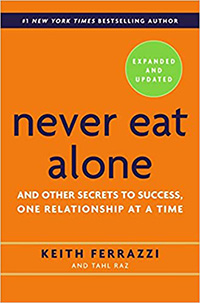 3. "Never Eat Alone" (Keith Ferrazzi, Tahl Raz)
Best Sellers Rank: #64,876 in Books.
#110 in Business Mentoring & Coaching (Books)
#1,420 in Personal Finance (Books)
Amazon reviews:
"The book is simply incredible and has a TON of other useful pieces of advice and information in it. Some of the negative reviews I have seen on this book claim it has nothing new in it. I am not sure what book they were reading, but it wasn't this one. This book has a ton of great ideas, anecdotes, and superb stories and examples to illustrate his points. Reading and applying the advice in this book WILL build your network and help you grow your business."
"After reading this book I couldn't decide if Keith Ferrazzi was a networking genius or just another party animal. I finally realized that either way, this book is a winner and no business person who is serious about networking and growing a business should be without it. This book is a plan of action. Make no mistake about it. If you want to expand your contacts, increase your influence, and create bigger business opportunities for yourself, then do yourself a favor and buy this book. "
""Never Eat Alone" is a terrific guide to building and nurturing value-added relationships. The book combines tangible suggestions for improvement with reinforcing and inspirational stories of Keith's own experiences. As a member of Keith's team, I had the opportunity to closely observe his marketing and brand management principles as he applied them to both Deloitte and himself. In fact, on several occasions, Keith had me prepare 1-2 page briefings on many of the people and companies he met with during his time at DC - an activity that is an important part of his relationship building strategy as outlined within his book, "Never Eat Alone." As a result of this experience and having read his book, I recognize the importance and impact of Keith's advice. In several respects, it is much better than many of the highly acclaimed networking and relationship books such as Harvey Mackay's fine "Dig Your Well Before You're Thirsty." I highly recommend this book to anyone interested in discovering the power of relationships. Overall rating: "A.""
Books quotes:
"Success in any field, but especially in business is about working with people, not against them."
"real networking was about finding ways to make other people more successful."
"Poverty, I realized, wasn't only a lack of financial resources; it was isolation from the kind of people who could help you make more of yourself."
"It's better to give before you receive. And never keep score. If your interactions are ruled by generosity, your rewards will follow suit."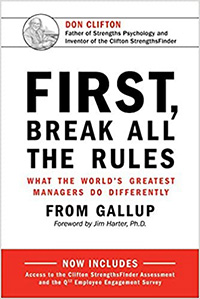 4. "First Break All The Rules" (Marcus Buckingham)
Best Sellers Rank: #777,166 in Books.
Amazon reviews:
"Wow.. it changed my perspective toward hiring people at work. The idea that select people for their talents and provide necessary skill & knowledge around it. We can't change people too much. Don't try to put inside what is left out but try to squeeze what it inside."
"I'm obsessed. Ive read, reread and I've taken notes. Great book."
Books quotes:
"Talent is the multiplier. The more energy and attention you invest in it, the greater the yield. The time you spend with your best is, quite simply, your most productive time."
"People leave managers, not companies"
"The talented employee may join a company because of its charismatic leaders, its generous benefits, and its world-class training programs, but how long that employee stays and how productive he is while he is there is determined by his relationship with his immediate supervisor."
"People don't change that much. Instead of trying to put in what God left out, try drawing out what God left in!"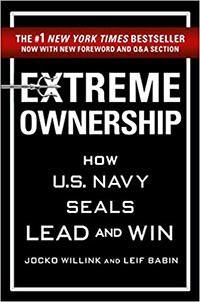 5. "Extreme Ownership: How U.S. Navy SEALs Lead and Win" (Jocko Willink, Leif Babin)
Best Sellers Rank: #11,924 in Books.
#202 in Business Motivation & Self-Improvement (Books)
#208 in Motivational Management & Leadership
#273 in Leadership & Motivation
Amazon reviews:
"Jocko and Leif have written the most important qualities for a leader to have in this book. The book is thoroughly engaging with numerous war stories, all while effectively delivering a lesson on each leadership trait."
"I enjoy the read very much. It open my eyes on where I lack and how to seek improvement. Being military I enjoyed how easy it was to understand their views. I like the examples given and how to apply outside of the military. It is easily a recommendable book to anyone, even those with no military background!"
"The authors have a very relatable way to teach the leadership principles that if applied will change your life."
Books quotes:
"On any team, in any organization, all responsibility for success and failure rests with the leader. The leader must own everything in his or her world. There is no one else to blame. The leader must acknowledge mistakes and admit failures, take ownership of them, and develop a plan to win"
"Leaders must own everything in their world. There is no one else to blame"
"The best leaders are not driven by ego or personal agendas. They are simply focused on the mission and how best to accomplish it."
"In order to convince and inspire others to follow and accomplish a mission, a leader must be a true believer in the mission"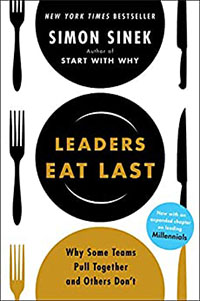 6. "Leaders Eat Last: Why Some Teams Pull Together and Others Don't" (Simon Sinek)
Best Sellers Rank: #274,291 in Kindle Store.
#192 in Human Resources & Personnel Management (Kindle Store)
#220 in Military Strategy History (Kindle Store)
#231 in Workplace Behavior
Amazon reviews:
"I read this book a couple of years ago as part of a principal leadership training. I dusted it off again to revisit some ideas. I found it more valuable now as a principal leading staff in post-pandemic recovery. We will use this as our leadership book study this year. Yes, it is that good with easy things to do and implement."
"Simon not only talks about the right leadership but how important is to build relationships! Inspiring and emotional. Recommended to everyone!"
""Leaders Eat Last" is a much easier read than a number of management style books on the market. The featured stories are exciting, the studies mentioned are relevant (and different than what other books mention), and Sinek's style of writing kept me engaged. I do wish the ending of the book was as strong as the beginning, but I believe "Leaders Eat Last" should be on the shelf of anyone looking to rank up in their given profession."
Books quotes:
"If your actions inspire others to dream more, learn more, do more and become more, you are a leader."
"It is not the genius at the top giving directions that makes people great. It is great people that make the guy at the top look like a genius."
"Stress and anxiety at work have less to do with the work we do and more to do with weak management and leadership."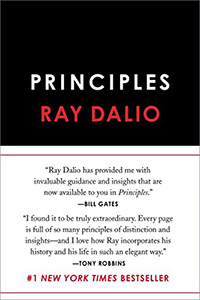 7. "Principles: Life and Work" (Ray Dalio)
Best Sellers Rank: #8,004 in Kindle Store.
#1 in Organizational Learning
#5 in Investing Basics
#6 in Business Decision-Making
Amazon reviews:
"In general, I'm so impressed the author took the time and effort to teach the world everything he has learned. You can tell he truly wants to help others be successful. The book has taught me the importance of trying to understand the fundamental building blocks of my own life. I now have an appreciation for trying to understand how things work and how I can model success habits around those principles. I've started to list my own principles, but it's hard identifying unique ideas beyond those found in the book (because it's so thorough). But the important part is that I'm aware of developing my own list and co-opting or creating new principles. This book has had a profound impact on me - it's definitely worth more than 5 stars."
"The book, physically, is very nicely bound and produced. It's print is lovely, black and red ink, and is organised into three parts. It's essentially a huge bullet-pointed document with one or two paragraphs under each sub-point. There are black and red ribbons to mark pages, which I've always liked in books."
"The book is very inspiring in terms of establishing guiding principles in life and work. Unfortunately I think Ray and many readers think that the principles are valid for everyone as they are. Ray Dalio and his hedge fund is in a very unique position in terms of decision making process, recruitment and how they work. This is definitely not applicable for everyone. Use the book as inspiration to create your own principles from scratch but don't use his as a starting point."
Books quotes:
"Maturity is the ability to reject good alternatives in order to pursue even better ones"
"Making a handful of good uncorrelated bets that are balanced and leveraged well is the surest way of having a lot of upside without being exposed to unacceptable downside"
"Seek out the smartest people who disagreed with me so I could try to understand their reasoning. 2. Know when not to have an opinion. 3. Develop, test, and systemize timeless and universal principles. 4. Balance risks in ways that keep the big upside while reducing the downside"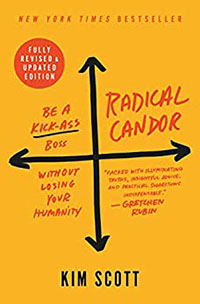 8. "Radical Candor: Fully Revised & Updated Edition: Be a Kick-Ass Boss Without Losing Your Humanity" (Kim Scott)
Best Sellers Rank: #2,446 in Kindle Store.
#1 in Business Management Science
#1 in Human Resources & Personnel
#1 in Human Resources & Personnel Management (Kindle Store)
Amazon reviews:
"I'm about to step into one of the highest positions in my career and I feel like this book was such an amazing way to get myself prepared to lead. Scott gives amazing examples for each lesson that allow you to humanize and think of a situation where you could apply those skills. I can't wait to implement Radical Candor and continue learning about this method of leading."
"This book solves one of the largest problems leaders have: how to give negative feedback and still remain friends. Kim sets out a framework that is both kind and direct for giving employees feedback. If you supervise others, you deserve to read at least the framework from this book. It is a game changer. Five stars"
"I've never been a manager. But if I ever become one, I will strive to be like Kim Scott. Being a good manager sounds tough. I had never considered all their duties until I read this book. The author makes a great case for "care personally, challenge directly". The anecdotes about her mistakes and victories in management are delightful!"
Books quotes:
"Ultimately, though, bosses are responsible for results. They achieve these results not by doing all the work themselves but by guiding the people on their teams. Bosses guide a team to achieve results."
"Radical Candor" is what happens when you put "Care Personally" and "Challenge Directly" together."
"Guidance, team, and results: these are the responsibilities of any boss."
"A good rule of thumb for any relationship is to leave three unimportant things unsaid each day."
Productivity Platform
Get More Done In Less Time.