6 Best Productivity Books Of All Time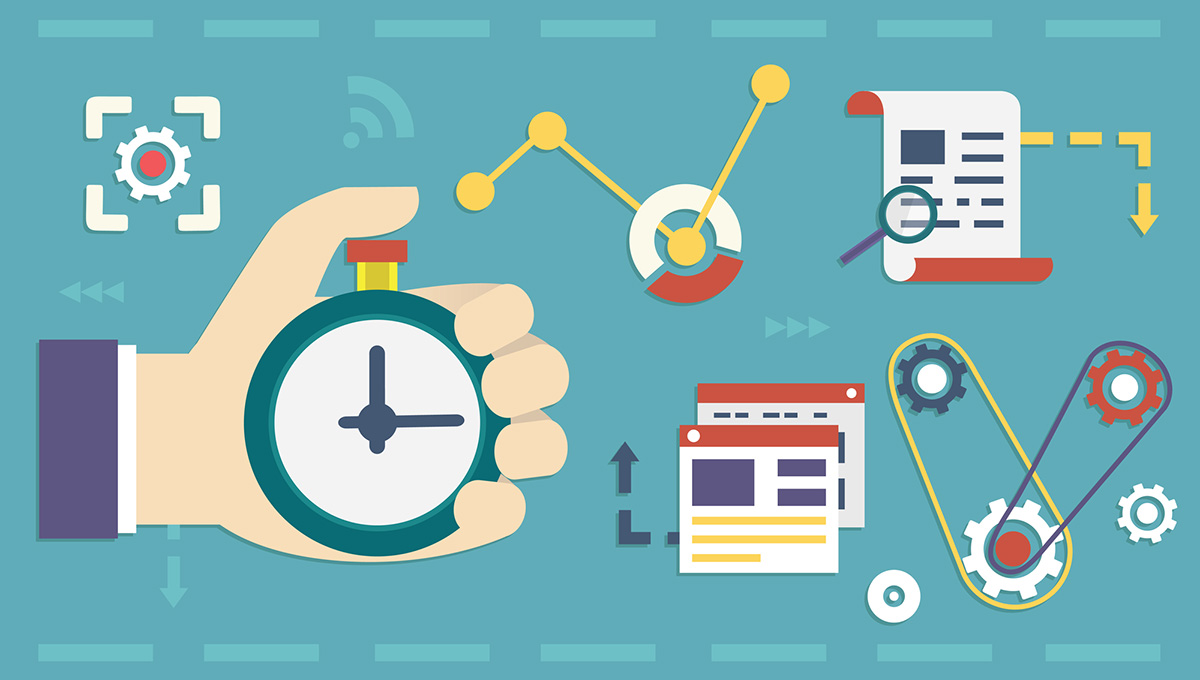 More articles:
1) Smart Notes With Obsidian And Zettelkasten;
2) Books Recommended by Jim Kwik;
3) 30 Best Memory Improvement Books.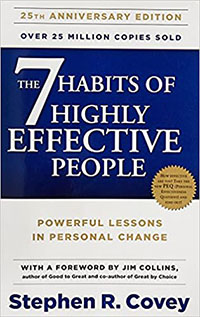 1. "The 7 Habits of Highly Effective People" (Stephen Covey)
Best Sellers Rank: #11,698 in Books.
Amazon reviews:
"I was forced to read this book in high school and I got through it but the insights went straight over my head. Now, it took me several months but I read it very carefully. Taking time to do the suggested activities brought amazing insights which I found applicable to all aspects of my life. I also enjoyed watching videos on YouTube and tapping into additional FranklinCovey resources. I will be reading this one again and again."
"Must read for future generations. Encyclopedia of profound knowledge."
"A guide on valuing the correct principles. A must read for all individuals, especially those who desire to be the best version of themselves"
"What Stephen presents in his book is a structured approach on becoming a highly effective person. He stressed the fact that he did not invent any of these but rather structured them for his readers. All of these actions are innate to us already, i.e., either we are not aware or we just refuse to practice these habits. I would recommend this to people who are trying to get their personal lives or careers back on track. The book is full of practical knowledge and illustrative examples on how to apply the 7 Habits which can really help the reader. As it is not expected for everyone to get a good grasp of the 7 Habits after picking up and completing the book, I believe a reread of this book is in order. Great material!"
Books quotes:
"It's not what happens to us, but our response to what happens to us that hurts us." (Highlighted by 30,093 Kindle readers)
"A serious problem with reactive language is that it becomes a self-fulfilling prophecy." (Highlighted by 18,864 Kindle readers)
"As Emerson once put it, "What you are shouts so loudly in my ears I cannot hear what you say."" (Highlighted by 18,099 Kindle readers)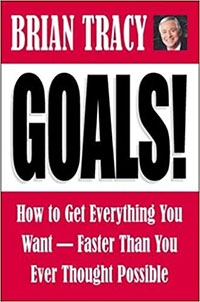 2. "Goals!: How to Get Everything You Want Faster Than You Ever Thought Possible" (Brian Tracy)
Best Sellers Rank: #994,639 in Books
#1,396 in Medical Applied Psychology
#2,162 in Popular Applied Psychology
#4,678 in Job Hunting & Career Guides)
Amazon reviews:
"I am a high school teacher, and this is the best book on goals I ever read. I have read and highlighted so many useful points in this book. Be prepared to change the way you think about your life. Be prepared to focus more on the things you want in life versus the things you are wishing for. One idea I found extremely helpful is to write your goals daily. This helps you to hone in on what is really important to your future."
"I have never really written my goals, but after reading this book I have started to and I can already see the difference it makes in my discipline and persistence in attaining my desired goals. Whenever I am tempted to go astray, I can visualize my goals on paper and they might as well be etched in stone. Before, I could just dilute myself and compromise but not anymore. I would recommend this book to anyone that really wants to succeed in every aspect of life."
"So far the best book on psychology of setting goals I ever read. As soon as I began to diligently follow Brian Tracy's instructions in this book, things began to change for good, often my in a most unexpected, and mysterious ways, and this is just the beginning. I am excited!"
Books quotes:
"A goal, however, is something distinctly different from a wish. It is clear, written, and specific. It can be quickly and easily described to another person. You can measure it, and you know when you have achieved it or not."
"The seventh key is that you must have a major definite purpose for your life. You must have one goal that, if you accomplish it, can do more to help you improve your life than any other single goal."
"The great summary statement of all religions, philosophies, metaphysics, psychology, and success is this: You become what you think about most of the time. Your outer world ultimately becomes a reflection of your inner world. Your outer world of experience mirrors back to you what you think about most of the time. Whatever you think about continuously emerges in your reality."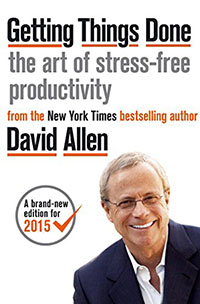 3. "Getting Things Done" (David Allen)
Best Sellers Rank: #93,020 in Books
#81 in Time Management in Business
#106 in Organizational Behavior (Kindle Store)
#142 in Time Management (Books)
Amazon reviews:
"I read this book after feeling anxious about all of these things I need to do, want to do, and should be doing. I really appreciated how the book focused on each step of Getting Things Done in a positive and insightful way. I read through the book at its entirety without stopping to do each step, just to know the whole process. I now plan to go back through and listen to each of the steps while I do that. I recommend this for anyone looking to have a better sense of getting things done in their life and having their expectations managed. It does take time, as mentioned in the book, to trust the new method. However, I am going to do it!"
"The book itself is very well written and the edition I have was updated in 2015 to include discussion of new technology (not specific applications) and how it impacts the GTD workflow. If you are interested in improving your productivity and generally getting things done you could do a whole lot worse than to check out this book. I gave Getting Things Done: The Art of Stress Free productivity five stars out of five."
"I have bought this book for myself and for my staff. I really appreciate what using the GTD method has done for my work and personal life. People are always surprised by how much I have on my plate and how I manage to keep it all straight. This has been a game-changer for me and for my staff."
Books quotes:
"We (1) capture what has our attention; (2) clarify what each item means and what to do about it; (3) organize the results, which presents the options we (4) reflect on, which we then choose to (5) engage with." (Highlighted by 14,263 Kindle readers)
"Getting things done requires two basic components: defining (1) what "done" means (outcome) and (2) what "doing" looks like (action)." (Highlighted by 14,118 Kindle readers)
"the real problem is a lack of clarity and definition about what a project really is, and what associated next-action steps are required." (Highlighted by 10,943 Kindle readers)
"I define a project as any desired result that can be accomplished within a year that requires more than one action step." (Highlighted by 9,037 Kindle readers)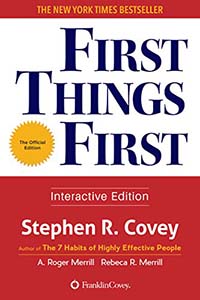 4. "First Things First" (Stephen Covey)
Best Sellers Rank: #231,408 in Books
#216 in Time Management in Business
#362 in Time Management (Books)
#589 in Personal Time Management
Amazon reviews:
"I read this book 20 years ago. I was too young to really get it. Now that I'm older, this book is like gold. I can never hear universal truths enough. Some reviews I read before I purchased this said that the book is too long. I disagree. Everything today is too fast and too short. Universal wisdom needs to be explained at length to get it. Platitudes just don't cut it. This book is certainly NOT full of platitudes. I recommend this book highly."
"Excellent book. Helps you get perspective on what really matters in your life and therefore apply your focus and concentration on what should be the first priorities. We so often get distracted by worthless rubbish in this day and age - the news media, sports, following singers, or whatever. We also have so many opportunities and so much is right at our fingertips with instant gratification in many areas a true possibility. But as a culture, on the whole, we are more dissatisfied with life and more stressed out than ever before. I believe this is because we do not learn to focus on the most important things in life as we did years ago. This book will help you figure out this dissonance. On top of that, it will give you really useful processes and strategies once you've figured out what the most important things in your life are."
"Dr Covey and co authors produced a masterpiece, a thought provoking book, not a quick fix. It led me to think deeply, not just about my time management but also how I'm leading my life.
Success is a journey and it takes preparation, integrity and hard work.
I'm glad I bought this book.
Great book!"
Books quotes:
"It's much more a matter of what you do and why you do it, than how fast you get it done." (Highlighted by 2,028 Kindle readers)
"We need to constantly be asking ourselves, "What is needed out there, and what is my unique strength, my gift?"" (Highlighted by 1,640 Kindle readers)
"More than doing things right, it's focused on doing the right things." (Highlighted by 1,538 Kindle readers)
5. "The Effective Executive" (Peter Drucker)
Best Sellers Rank: #39,604 in Books
#5 in Business Management Science
#10 in Library Management
#15 in Management Skills
Amazon reviews:
""The Effective Executive" (1966) was the first book to define who an executive is and to explain the practices of effective executives. Today there are several in this genre. But this book was the first, as is the case with many of Drucker's masterpieces."
"It is not a long book, but if you ever bother thinking about reading a business book, this is the one. It is not current, so some of the references to big industry are very dated, but the concept remains the same - good (excellent) executive performance is excellent executive performance. If this is not mandated reading in a business school - then it is not a business school."
"First, this book is amazing. It packed with great, applicable information. I actually think this book is more relevant today that it was when it was first written. Second, the message is amazing. The overall message is simple, "effectiveness can be learned and must be earned." There may be some individuals better suited for leadership roles, but to be an effective manager you need to develop the skill of effectiveness. I will definitely be picking up more Drucker books in the future."
Books quotes:
"It is more productive to convert an opportunity into results than to solve a problem - which only restores the equilibrium of yesterday."
"Intelligence, imagination, and knowledge are essential resources, but only effectiveness converts them into results."
"Working on the right things is what makes knowledge work effective."
"Effective executives know that their subordinates are paid to perform and not to please their superiors."
"If there is any one "secret" of effectiveness, it is concentration. Effective executives do first things first and they do one thing at a time."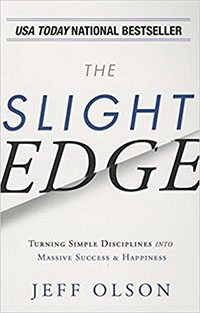 6. "The Slight Edge" (Jeff Olson)
Best Sellers Rank: #6,739 in Books
#276 in Success Self-Help
#347 in Personal Transformation Self-Help
Amazon reviews:
"This book has been more transformative and influential for me than any other book I've read - and I read incessantly. The simple yet proud and easy to follow principles in this book will get you off the path of failure, and onto the path of success, and help you to do so one day at a time. This book is now a must read for anyone that joins my team so that they can understand and apply the principles by which our company runs."
"The best book I have read for personal development which gives practical exercises that are simple. This is not a theory book. It is easy to do and easy not to do"
"I am an avid reader, and have been for years, and this is the book I consistently recommend on social media, in my networking groups, friends/colleagues-you name it. Whether you are trying to lose weight, exercise more, start a new business, or any other change in your life this book is for you. The principle is simple: being consistent and deliberate in your daily actions can lead to huge successes. Throughout the book Jeff Olson teaches us and reminds us how to take action and how to remain consistent. It's an easy read but with so much value. I honestly do not know how anyone could not give this book a 5 star review."
Books quotes:
"Successful people do what unsuccessful people are not willing to do."
"The truth is, what you do matters. What you do today matters. What you do every day matters. Successful people just do the things that seem to make no difference in the act of doing them and they do them over and over and over until the compound effect kicks in."
"The journey starts with a single step—not with thinking about taking a step."
"Successful people do whatever it takes to get the job done, whether or not they feel like it."
Productivity Platform
Get More Done In Less Time.